Process Instruments introduces its laboratory Raman analyzer.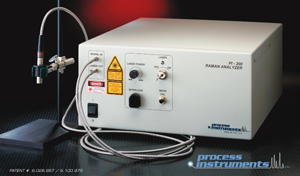 785 nm Frequency Stabilized, Narrow Linewidth Laser.
Laser power (adjustable):  450 mW standard.
Higher power levels available – up to 1,500mW
Line width ~ 1.0cm-1.
Wavelength accuracy ± 0.1nm.
Wavelength repeatability (on/off) -< 0.15 cm-1

 

.
Wavelength stability -< 0.3 cm-1drift per week.
Laser lifetime -1 year warrenty (6 year projected lifetime).
Patented design – Pat. No. 6,100,975.
Inphotonics Raman Probe-standard (other probes types available).
200µm diameter excitation fiber, 400µm collection fiber.
Focal length – 5mm standard, 3 meter fiber optic cable.
Rayleigh filtering built into probe tip (>8 O.D.).
System can accommodate most any Raman probe configuration.
Probes manufactured from 316-SS, carbon steel, alloy-20, hastelloy, etc.
Ball probes also available.
Lowest Raman shift that can be measured ~225 cm-1.
ATEX Zone 0 certified.
Andor DU401-FI (standard) Higher performance CCD detectors available.
TE cooling to < -60° – 82° C for low noise applications.
Pixel size = 26 µm square and full range area of 128 x 1024 pixels.
Other CCD configurations available; e.g., 256 x 1024 pixels..
Spectograph aperture: f/2.0.
Focal length: 135 mm.
Patented design: No. 6,028,667.
Diffraction grating: 1200 grooves/mm, ruled standard (other gratings available upon request).
Resolution: 4 cm-1with 785 nm excitation.
Spectral coverage: with 785 nm excitation ~2100 cm-1, with 830 nm excitation the spectral coverage is ~1900 cm-1

 

.
Fiber optic coupling: bundle to slit adapter with 100 µm fibers (17 fibers) in a linear input array (3.3 mm high) for coupling to spectrograph.
Temperature controlled: ~30° C for added stability.
Image curvature at exit plane: < 0.5 pixel over full height of CCD array.
User adjustable center wavelength via rotating grating.
Builtin neon lamp for wavelength calibration.
20″ x 16″ x 8″, weight ~ 66 lbs.
Data collection with real time chemometrics, laser frequency tracking, multipoint neon lamp absolute wavelength calibration, and throughput normalization features for chemometric model transfer capability.
Auto calibration features available
Interface with a DCS system, RS485, RS232, or TCP/IP .
Data files can be exported into ASCII and SPC formats.
Amplitude stability ± 0.2 % over 24 hours after 30 minutes warmup.
Frequency stability ± 0.1 cm-1

 

over 24 hours after 30 minutes warmup.
115 to 230 VAC, 47 to 63 Hz, 4A
Two year on both laser and instrument.