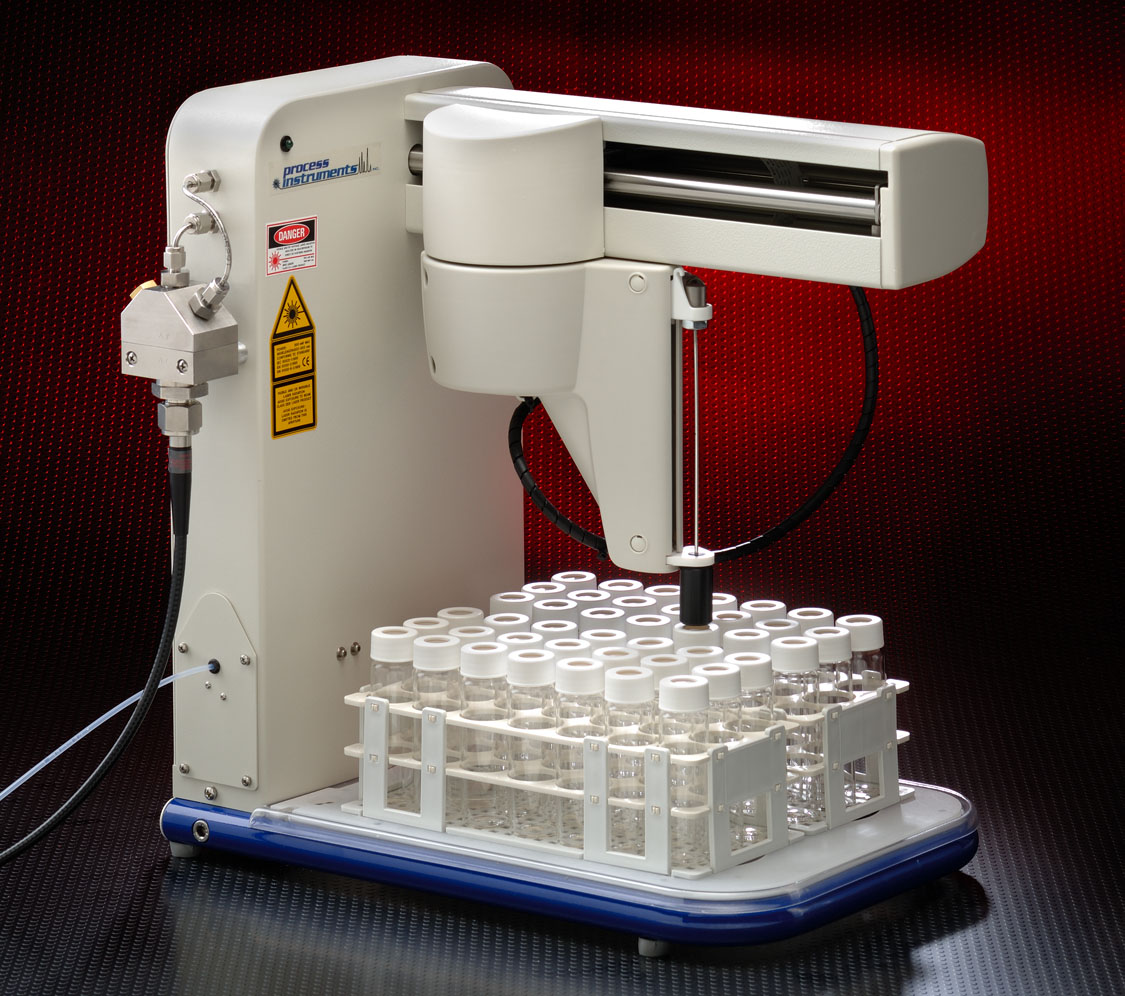 The PII-AS-42 (Liquid Autosampler) accessory is now available for delivery. The liquid autosampler incorporates our standard flow through Raman sample cell and uses an InPhotonics Raman probe to optically connect the laboratory accessory to our PI-200-L (Laboratory) Raman spectrograph. The accessory can hold up to 42 sample bottles (40 ml volume) with open lids and Silicone/PTFE (0.090″/0.010″ thick) septa seals to ensure that volatiles remain in the sample during testing. Typical flush times are ~ 30 seconds. The user can load a mixture of different types of samples and PROspectTM software automatically loads the appropriate chemometric models to predict the correct parameters. Prior to starting a batch of sample, a performance check is made to ensure the system is operating properly and when the batch is completed a cleaning cycle is run to maintain optimum sampling performance. Raman spectra and predictions are stored and also made available in a LIMS report format. The liquid autosampler is designed to handle most liquids including aqueous samples, gasoline, jet fuel, and diesel oil type products.
16.3 in x 14 in x 17.1 in (415mm x 356mm x 435mm)
50 Watt 100-240VAC 50-60Hz 1.2A  (The power supply has international approvals to BS, UL, CSA, and VDE standards.)
20″ x 16″ x 8″, weight ~ 66 lbs.
Temperature Range: Non operating
41F – 113F (5C – 45C)  20% – 80% relative humidity
Temperature Range: Operating
50F – 95F (10C – 35C)  8% – 80% relative humidity
Two year on both sampler and instrument.