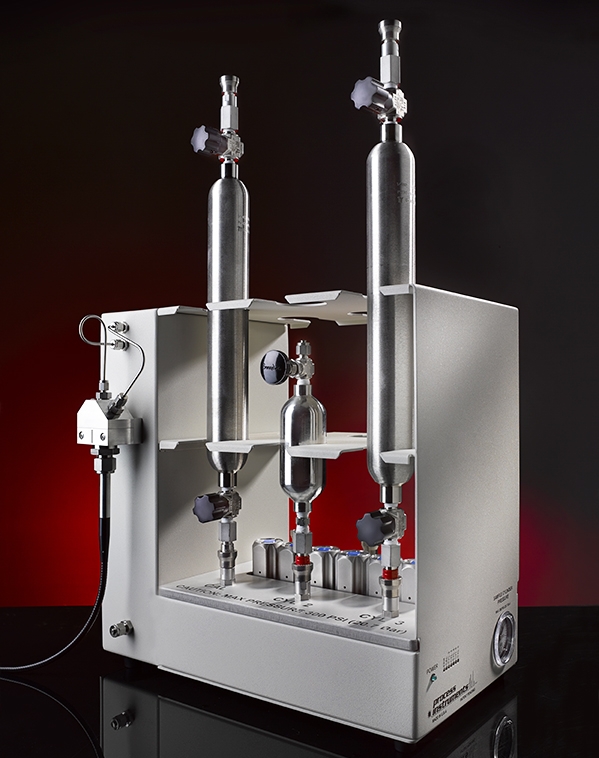 The PII-AS-LPG (LPG-Autosampler, Patent Pending) accessory is now available for delivery. The LPG autosampler incorporates our standard flow through Raman sample cell and uses an InPhotonics Raman probe to optically connect the laboratory accessory to our PI-200-L (Laboratory) Raman spectrograph. The accessory can hold up to 6 sample cylinders. Double block/bleed valves with minimal dead space and complete flushing of the lines post spectrum acquisition are some of the methods used to ensure there is no cross contamination between different cylinders.  Typical flush times are ~ 20 seconds. The user can load a mixture of different types of samples and our PROspectTM software automatically loads the appropriate chemometric models to predict the correct parameters. Prior to starting a batch of samples, a performance check is made to ensure the system is operating properly, and the instrument automatically detects error conditions, i.e. no sample present, low sample bomb pressure, low air pressure powering pneumatic valves.  Raman spectra and predictions are stored and also made available in a LIMS report format. The LPG autosampler is designed to handle most LPG type products.
17 in x 17 in x 17 in (432mm x 432mm x 432mm) Note: 500cc cylinders require bench clearance of ~28 in
120 Watt 100-240VAC 50-60Hz 1.0A 
150 to 500cc with DESO (Red Stem Sleeve)
Analysis utilises ~50 cc of product per measurement
Pressurized Instrument Air
80 to 120 psi required for activating sample valves
Temperature Range: Non Operating
41F – 113F (5C – 45C)  20% – 80% relative humidity
Temperature Range: Operating
50F – 95F (10C – 35C)  8% – 80% relative humidity
Two year on both sampler and instrument.