PI-200 Online Raman System
PI-200 Online Raman System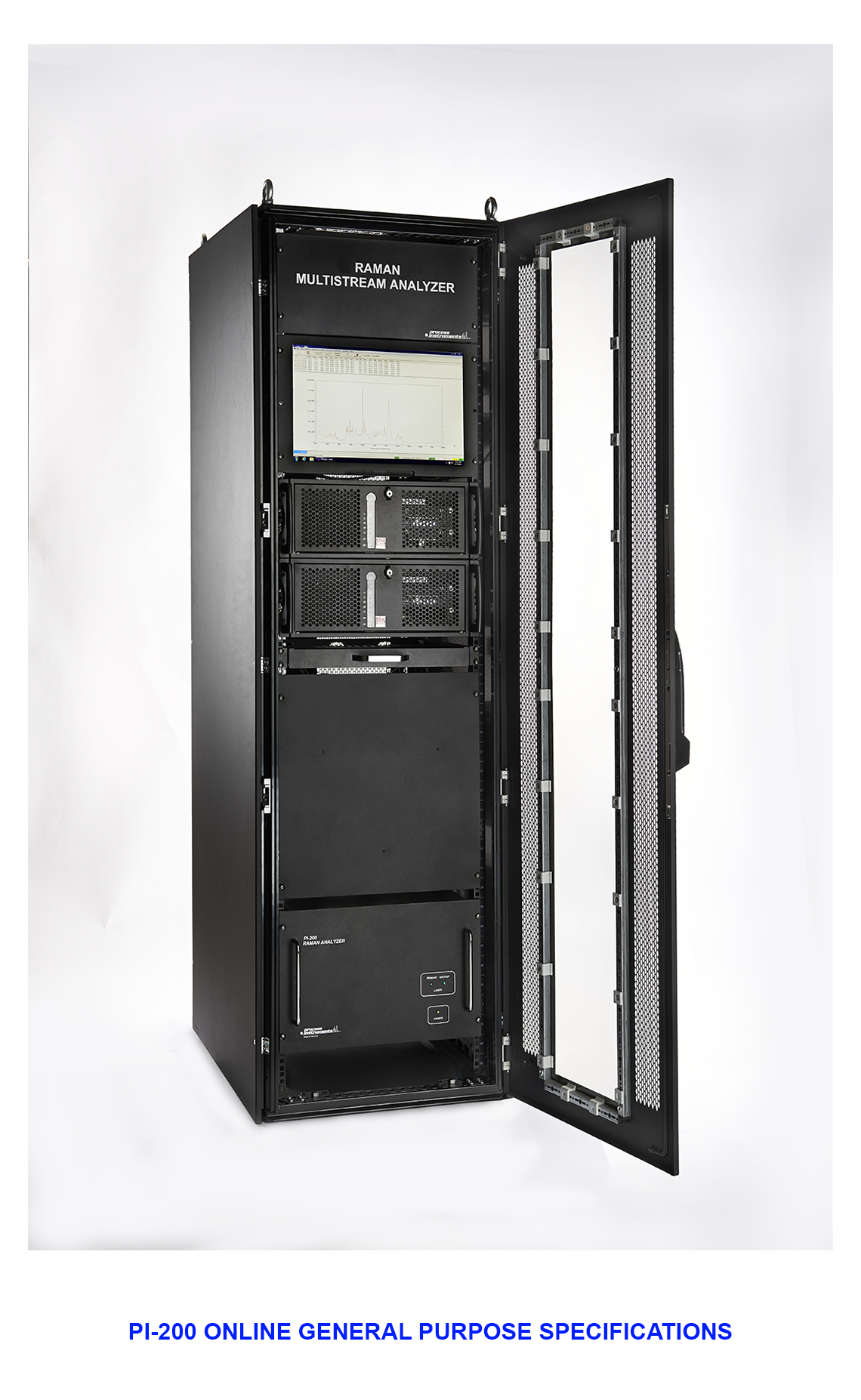 The Raman instruments incorporate a frequency stabilized, narrow linewidth diode laser (Patent No. 6,100,975); a temperature controlled, optically fast ( f/2.0) fiber coupled spectrograph (Patent No. 6,028,67); a very low noise Andor CCD camera TE cooled to < -80°C; and PROspectTM data acquisition and analysis software. The PROspectTMsoftware can be combined with GRAMS/AI9.1* for realtime chemometrics and process control applications. This Raman instrument design offers very high signal levels while retaining high resolution (~ 4 to 5 cm-1 depending upon excitation wavelength). Patented optical design allows full (3.3 mm) height coverage of the 1024 x 128 pixel CCD chip and wide fiber array input (17 X 100 micron diameter fibers) while retaining a straight fiber array image and good resolution. The system includes a fiber coupled probe with laser band pass and elastic light rejection (~10-8) filtering. With the 1200 grooves/mm grating, the spectral coverage is ~ 2100 cm-1 at 785 nm excitation. The grating is adjustable to allow use with excitation from 670 to 860 nm. The spectra can be exported in SPC or ASCII formats.
* GRAMS/AI8.0 is a registered trademark of Thermo Electron Corporation.
785 nm Frequency Stabilized, Narrow Linewidth Laser.
Laser power (adjustable):  450 mW standard.
Higher power levels available – up to 1,500mW
Line width ~ 1.0cm-1.
Wavelength accuracy ± 0.1nm.
Wavelength repeatability (on/off) -< 0.15 cm-1

 

.
Wavelength stability -< 0.3 cm-1drift per week.
Laser lifetime -1 year warrenty (6 year projected lifetime).
Patented design – Pat. No. 6,100,975.
Inphotonics Raman Probe standard (other probes types available).
200µm diameter excitation fiber, 400µm collection fiber.
Focal length – 5mm standard, 3 meter fiber optic cable.
Rayleigh filtering built into probe tip (>8 O.D.).
System can accommodate most any Raman probe configuration.
Probes manufactured from 316-SS, carbon steel, alloy-20, hastelloy, etc.
Ball probes also available.
Lowest Raman shift that can be measured ~225 cm-1.
ATEX Zone 0 certified.
Andor DU401-FI (standard) Higher performance CCD detectors available.
TE cooling to < -60° – 82° C for low noise applications.
Pixel size = 26 µm square and full range area of 128 x 1024 pixels.
Other CCD configurations available; e.g., 256 x 1024 pixels..
Spectograph aperture: f/2.0.
Focal length: 135 mm.
Patented design: No. 6,028,667.
Diffraction grating: 1200 grooves/mm, ruled standard (other gratings available upon request).
Resolution: 4 cm-1with 785 nm excitation.
Spectral coverage: with 785 nm excitation ~2100 cm-1, with 830 nm excitation the spectral coverage is ~1900 cm-1

 

.
Fiber optic coupling: bundle to slit adapter with 100 µm fibers (17 fibers) in a linear input array (3.3 mm high) for coupling to spectrograph.
Temperature controlled: ~30° C for added stability.
Image curvature at exit plane: < 0.5 pixel over full height of CCD array.
User adjustable center wavelength via rotating grating.
Builtin neon lamp for wavelength calibration.
Online 19″ rack mount dimensions (80″ x 23″ x 40″), weight ~ 430 lbs.
Online Purged enclosure rack mount (72″ tall x ~ 28″ wide x ~ 36″ deep)
Up to 18 channels with fiber switcher (17" x 17" X 10"), weight 55 lbs.
Insertion loss is less then 1 dB.
Switching time between channels is ~ 0.5 s.
Patented design:  No. 6,859,581B1.
Includes backup laser with an AUTO SWAP feature to automatically switch in the backup laser should the primary laser fail.
Includes a backup computer with hot swappable ARAID drives that can be quickly used if the primary computer should fail.
Lasers can be easily switched out with no user optical alignment.
Software features include automatic X- and Y-axis calibration, real time chemometrics, and continuous laser tracking to ensure stable operation.
Backup features along with auto calibration ensure that there is minimal downtime (typically < 2 hours/year/channel).
Includes modeling for 1st

 

year of use, model training at our facility.
Remote monitoring of system health available.
Data collection with real time chemometrics, laser frequency tracking, multipoint neon lamp absolute wavelength calibration, and throughput normalization features for chemometric model transfer capability.
Auto calibration features available
Interface with a DCS system, RS485, RS232, or TCP/IP .
Data files can be exported into ASCII and SPC formats.
Amplitude stability ± 0.2 % over 24 hours after 30 minutes warmup.
Frequency stability ± 0.1 cm-1

 

over 24 hours after 30 minutes warmup.
115 to 230 VAC, 47 to 63 Hz, 10A
Two year on both laser and instrument.